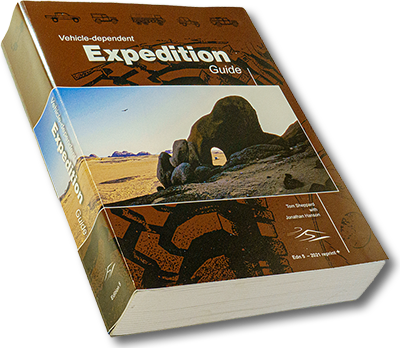 Vehicle-dependent Expedition Guide ....
Edn 5
ISBN 978-0-9575385-8-0
6/6 : Contents, buying
AUTHOR/PUBLISHER: Tom Sheppard, MBE ...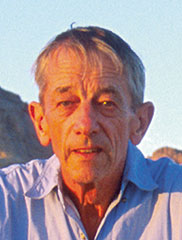 ex Royal Air Force test pilot, has accumulated more than 110,000 miles' overlanding over the years. He led the expedition that made the first lateral, coast-to-coast crossing and continuous gravity survey of the Sahara, Atlantic to the Red Sea - for which he gained a Royal Geographical Society award. As the driving force behind Desert Winds Publishing, he has authored Quiet for a Tuesday, The Nobility of Wilderness - Travels in Algeria and the many editions of Four-by-four driving.
CO-AUTHOR: Jonathan Hanson ...

overlanding experience covers terrain from Egyptian sand seas to Arctic tundra. He has written for a score of magazines and published a dozen books on natural history and outdoor sports. jonathan and his wife Roseann are the originators of the US Overland Expo, a gathering of like-minded travellers from around the world; they also manage numerous conservation projects through their non-profit, ConserVentures.
CONTENTS

SEC 1: PRELIMINARY PLANNING

1.1
Initial scan
1.2
Shipping
1.2.1 Shipping costs

SEC 2: EQUIPMENT PLANNING

2.1
Equipment basics
2.1.1 Typical kit lists
2.2
Camping
2.3
Clothing and footwear
2.4
Cooking and food
2.4.1 Typical kitchen list
2.5
Water
2.6
Fuel, oils, fluids
2.7
Communications
2.8
Electrical power

SEC 3: PERSONNEL, TRAINING

3.1
Team selection

SEC 4: VEHICLES

4.1
Expedition vehicles
4.2
Vehicle modifications
4.3
Loading and lashing

SEC 5: OPERATIONS

5.1
Routine and operations
5.2
Navigation
5.2.1 Map grids
5.2.2 Satellite image buy
5.3
Vehicle operations
5.3.1 Driver training
5.3.2 Vehicle maintenance
5.4
Recovery
5.5
Emergencies

SEC 6: INDEX
VDEG Edn 5 - out now (single copies)
Distributed in North America by exploringoverland.com
Price: £47.00 (GBP = GB pounds sterling)
Postage
UK: £3.50
Europe: £12.00 - airmail
World: £23.00 (excluding N America) - airmail
Payment
1. PayPal: Pay in GBP to 'mail@desertwinds.co.uk',or
2. By sterling cheque to 'Desert Winds Publishing'
(send to address below)
3. By bank transfer to:
Sort code: 402420 Account: 21485768
From overseas to:
IBAN: GB87HBUK40242021485768,
BIC: HBUKGB4104T
4. Any of the above:
Please send e-mail order confirmation to:
mail@desertwinds.co.uk
Desert Winds Publishing, 44 Salusbury Lane,
Hitchin, Herts SG5 3EG, United Kingdom
Tel: (+44)(0)1462 768 797     
e-mail: mail@desertwinds.co.uk